USB Power Delivery Tester Packet-Master USB-PDT
Power Delivery Compliance Tester
Packet-Master USB-PDT 는 케이블 E-Marker 와 PD Device 에 대한 USB-IF Power Delivery Compliance Test 를 제공하는 장비입니다. Power Delivery Device 및 E-Marker 개발자에게 유용한 솔루션입니다.
Test Functionality
- Test Suite runs automatically with minimal intervention
- A device with no issue can typically be tested in around 10 minutes
- BMC Transmitter and Receiver employing 250Ms/s digital signal processing
- Capability of Displaying BMC signal Eye Diagram with approximately 15 bit resolution
- Capability of generating signal distortions for running the specified
Interference Rejection tests required
- 100W PD VBUS Generator, automatically controlled by the tester
- 100W PD VBUS Load, automatically controlled by the tester
- VBUS Voltage and Current Measurement. Voltages are effectively made at the UUT
end of the calibrated test cable supplied
- A comprehensive Power Delivery Engine to allow the tester to behave as any
kind of appropriate Port Partner during testing, and also to apply unusual test
conditions to the Unit Under Test
- Automaitc Analyzer Capture During Testing
- External Power Supply Provided
- An Exerciser capability is currently in development
Eye Diagram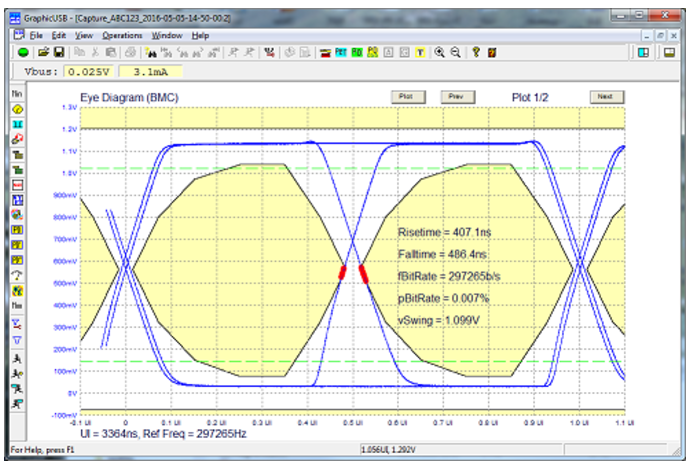 15-bit resolution 으로 정확하고 깨끗한 eye diagram 을 제공합니다.
Analyzer Capture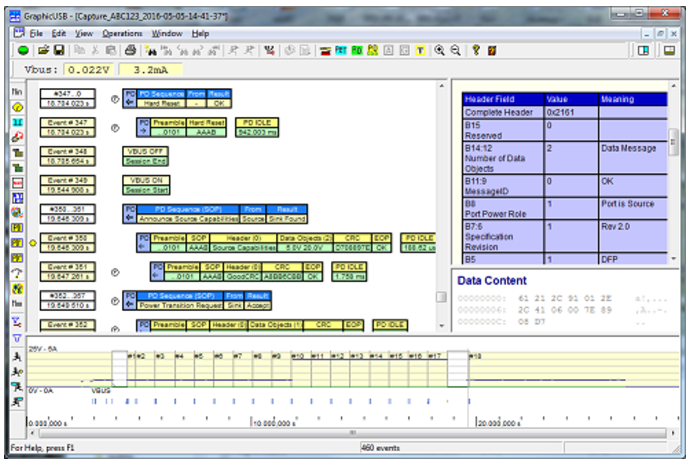 테스트 동안의 PD 메세지 캡쳐 및 디스플레이가 가능합니다. 스펙 준수 여부 판단을 위해 마스크가 적용된 VBUS 캡쳐도 가능합니다.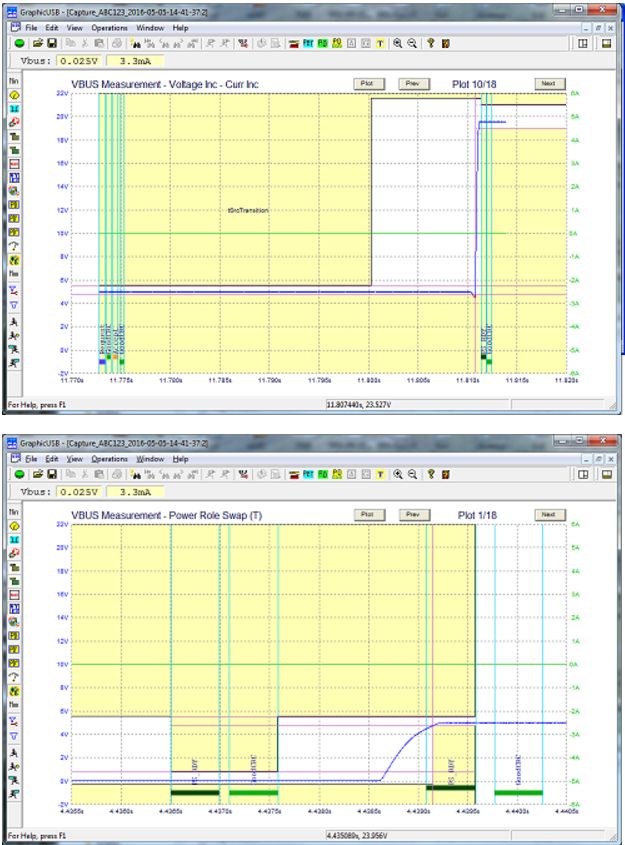 Also Available
- PD Analyzer POD. Converts the PDT into a non-intrusive PD Analyzer
- User-based Calibration Jig for PDT. Allows the user to calibrate the PDT
using only a calibrated multimeter. It can also calibrate the test cable.
- C-Type Breakout unit